Parallels 1: From Iran to Turtle Island; One Heart Beat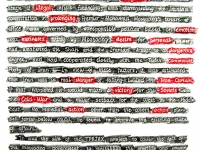 I am an Iranian. I live in Canada. And I am and I support Idle No More.
When Chief Theresa Spence started her fast on 11 December 2012 I dedicated my customary winter fast in solidarity to her, and as Idle No More gathered momentum to become the widespread grass roots movement of First Nations and their allies, I have attended every round dance and held hands and danced to the drums beating as one heart.
During this time, I have been working on my project Headquarters: Pathology of an Ouster which focuses on the 1953 coup d'etat in Iran that was orchestrated by the CIA and MI6. The coup overthrew the popular elected government of Prime Minister Mossadeq and re-established the Pahlavi monarchy, and thus subjected Iranians to another 25 years under the Shah's rule of terror. In this project I've taken upon myself to re-write by hand the entire text of the now-declassified CIA report which was written by one of the coup's original designers less than a year later for the benefit of "future parallel operations" (such as were carried out in 1954 in Guatemala, in Zaire and Laos in 1960, Dominican Republic in 1963, Brazil in 1964, etc …)
The process of writing by hand is quite laborious and takes a long time as I deboss the paper with a blunt tool and then reveal the writing by applying dry media. Each 22×30″ sheet takes about 5 hours and contains a page and a half of the original type-written document. As I subject myself to this physically demanding task (I have completed 35 sheets and working my way to 60), I also experience the emotional and historical weight of this document and the events it chronicles. Although I was born eight years after the coup, my life was indelibly marked by it. I grew up witnessing the effects of that violation (which under the repressive rule of the Shah we were not even allowed to speak of) on my father and his generation and I internalized and lived their trauma. As I exert pressure to write the words slowly one by one I know that the bureaucratic language of the "gentleman spy" is a facade for the violence that the US-UK intervention unleashed in Iran as it aborted a democratic movement that had taken shape to assert Iranian sovereignty over our land and its resources including that most sought-after of all, oil. The 1953 coup followed several years of grass roots movement including labour strikes against British ownership of the oil industry and the 1952 nationalization implemented by the government of Prime Minister Mossadeq.
Parallel to the writing, I have been reading and researching, learning about this period in my nation's history toward the creation of another component of the project, a script for a multi-vocal performance titled Ouster Remixed which is a decolonized response to the CIA report. The bulk of the research and remixing of the script was carried out in December while I was keenly aware of the hunger strike by Chief Spence, Raymond Robinson and Jean Socks, and while I broke from my work only to attend a round dance or a vigil. As I held these widely distant events – in time and place – in my mind and in my body, I became aware of the ways in which the 1946-1953 oil nationalization movement in Iran and Idle No More in 2012 in Canada are similar and connected.
The British-owned Anglo-Iranian Oil Company (AIOC) exploited the land and its resources and made enormous profits for its shareholders and the British Government while it cheated the latter even out of the meager royalties it was owed. The company falsified its accounting and refused attempts made by the Iranians to audit its books. AIOC repeatedly broke the terms of its treaty with the Iranian Government by refusing to provide housing, education and technical and managerial opportunities for the Iranian workers. AIOC's British staff lived in highly modern suburbs built exclusively for them while the Iranian oil labourers and other natives lived in abject poverty in shanty towns built on toxic land devoid of clean water which the British considered a luxury not necessary for the "backward" population. When faced with workers' strikes and pressure from increasingly vocal nationalists in the Iranian parliament for a fair agreement, AIOC and the British Government (which owned 51% of it) dragged their feet and played games and called Iranians "greedy" and AIOC's presence in Iran a "civilizing mission." Replace AIOC with oil sands companies, Iran with Canada, British Government with Canadian Government, Iranians with the First Nations and you get the dynamics in Canada. And here's another tidbit to strengthen the connections:
AIOC changed its name to British Petroleum and came to Alaska and Canada in 1954. The astronomical profits AIOC had made in Iran funded its expanding operations in Iraq, Kuwait, Indonesia and, yes, North America. BP Canada merged with Amoco – which had huge holdings in Canada – in 1998 and is currently one of the largest oil sand companies.
Indeed, from Iran to Turtle Island, we are connected through the legacy of imperialism. As I continue working on my project I know that it is not mere coincidence that I should be here at this particular time witnessing an unfolding movement on this side of the earth while I face the past struggles on the other side of the earth, for by virtue of imperialism, we are also connected through our struggles.
This documentary by Sanam Yaghmaei highlights the First Nations' struggles against the oil companies in Canada.
To be continued. In solidarity.
https://www.youtube.com/watch?feature=player_embedded&v=o1s_LULPu4c