First Call for Oil Nationalization, 1946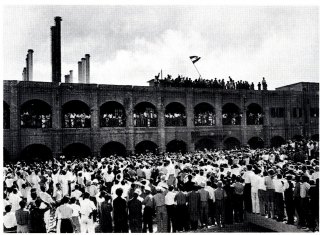 From Abrahamian, E.,
A History of Modern Iran
(Cambridge: Cambridge University Press, 2010).
Tudeh raised for the first time the demand for nationalization of the British-owned oil industry. On May Day in 1946, the British consul in Khorramshahr noted in alarm that a female speaker had not only demanded a comprehensive labor law with equal pay for equal work, but had also called for the total nationalization of the oil industry, accusing the British company of exploiting the "jewel of Iran" and of spending more on dog food than on wages for its Iranian workers. This was probably the very first time that the call for oil nationalization had been heard in Iran. It would not be the last. [113]
The Tudeh Party of Iran was a communist party with large membership and strong organization. (Tudeh means masses in Farsi.) From the same source:
By 1945-46, Tudeh had become the party of the masses in more than the name. It had six parliamentary seats in addition to that of Isfahan. It had three cabinet ministries: education, health, and trade. Its main newspaper, Rahbar (Leader), boasted a record-breaking circulation of more than 100,000 – triple that of the semi-official Ettela'at. The party also claimed 50,000 core members and 100,000 affiliated members. It opened branches in seventy-eight towns – in other words, almost every town with a population of more than 10,000. Its May Day and Constitution Day celebrations attracted huge crowds in all the major cities – in Tehran they drew as many as 40-60,000. It also forged alliances with other progressive groups, such as the Iran Party, Socialist Party and Jangali Party. [108-109]